Home Accessories FISCHER EXPANSION NYLON PLUG S5 (PACK OF 100)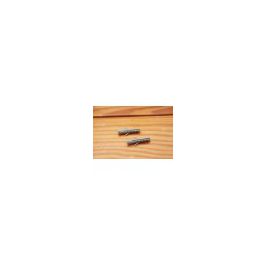 ₹100
Product Description
Applications : Pictures, Lighting, Skirting, Shelves, Mirror cabinets, Letter boxes, Motion sensors, Information boards, Curtain rails, Electrical installations

Usage Suitable for: Concrete, Natural stone with dense structure, Solid brick, Solid sand-lime brick, Solid block made from lightweight concrete, Hollow concrete blocks etc.

For fixing of Pictures, Motion detectors, Lamps, Skirting, Electric switches, Small wall-mounted shelves, Towel rails, Lightweight mirror cabinets,Letter boxes, Hanging baskets, Curtain rails
Application
The rimless plug sleeve allows for the plug to be set as deep as required below the plaster to the bearing substrate to achieve the maximum load-bearing capacity.

As the plug only expands in two directions, it is possible to direct the expansion forces so that they run parallel to the edge of the building material by turning the plug.This allows for smaller edge distances.

The slimline plug geometry makes it easy to push the plug into the drill hole. For a fast and simple installation.

The anti-rotation lock prevents the plug rotating in the drill hole, thus guaranteeing a high level of installation safety.

Screws of Gauge- #6 are recommended for this plug. Drill bits of 5mm diameter are recommended for this plug.
---