Home ICFS Nylon Frame Anchors ICFS Nylon Hammer Fixing Plug with Screw 5 x 40 mm (Pack of 25) ICFS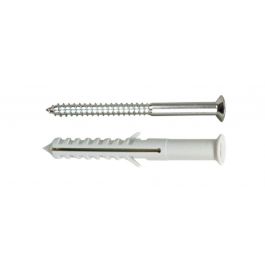 ₹224.1
Quick and easy to install.

Long expansion aces provides a more efficient fix even in light weight aerated concrete.

Knock in protection prevents premature expansion when driving in the screw, yet make it possible to adjust the depth of plug in the hole.

Position of the nail in front of the thread start permits easy drive in facility yet allows excellent screw out qualities for possible removal and re-use.

Reinforced screw head facilitates high knock-in loads with the added benefit of grip around the plug neck holding the material firm.
---